Directed by Milos Forman

121 min. / Color / 1.85:1 / Stereo / Optional Subtitles

Olive Select Blu-ray $39.95 (Limited to 3,500 units)
The beauty, the splendor, the wonder of Hair
Premiering off-Broadway in 1967 and moving to the Great White Way a year later, Hair: The American Tribal Love-Rock Musical became one of the great success stories in American theatre, and it's not exaggerating to suggest every musical since has been influenced by its blend of pop, jazz, audacious design, and sheer "anything goes" attitude. Milos Forman, newly arrived in America from Czechoslovakia, where he'd fled Communist oppression, loved the show and the freedom it represented but it wasn't until his stunning, surprise success (and Academy Award) with One Flew Over the Cuckoo's Nest that he could interest backers in a film version of the show, and then it took another two years to put it all together, meaning that the film was not released until 1979, when there was no appetite for Sixties nostalgia and the record charts were dominated by such youth anthems as My Sharona, Do Ya Think I'm Sexy? and YMCA. Hair grossed about half of what The Muppet Movie made that year. Funny thing, though, with each new passing year, the film looks younger and fresher, and the sparkling new Blu-ray from Olive – part of their deluxe Olive Signature series – at least gives the film the respect and attention it deserves, and it should find a new audience, even more than 40 years after it premiered.
Our story: Claude Bukowski (John Savage) is a slow-talking draftee out of Oklahoma, looking to see the tourist sites of Manhattan for a couple of days before he's off for his Army induction. He stumbles into Central Park and meets "the tribe," a group of hippies living off the land and the kindness of strangers with pocket change, including leader George Berger (Treat Williams, in a career-making role), pretty boy Woof (Don Dacus), Hud (Dorsey Wright), and the pregnant Annie, who was knocked up by either Woof or Hud and it doesn't make much difference but she'll eventually discover the truth, as Woof is white and Hud is not. Riding through the park on horseback comes stunning, classy debutante Sheila (Beverly D'Angelo), who is physically attracted to Berger and emotionally drawn to the shy Claude and therein is our tale.
Most of this deviates from the fairly plotless Broadway original, which is why its creators (Galt MacDermot, music; Gerome Ragni and James Rado, music) disowned it. Forman also repurposes songs, cut out many of the original numbers (or filmed them and then discarded them), and gives us not only humor, missing from the stage show, but characters we care about. Best of all, after much persuasion, he convinced Twyla Tharp to provide the astonishing choreography (in an interview included in the bonus material, she suggests that she accepted it because it meant work – actual paid work – for her beleaguered dance troupe). The result is two hours and one minute of absolute movie magic, and a film that, like all great movie musicals, is timeless.
Many of the songs from the original show were huge hit records, including Easy to Be Hard, Aquarius/Let the Sunshine In, Good Morning Starshine, and of course Hair, and you'll find them all here, although Easy to Be Hard – taken away from Sheila and given to a new character, the ex-girlfriend of Hud's that he left with their child – as sung by newcomer Cheryl Barnes becomes the real showstopper here. The cast is uniformly excellent, although it's Treat Williams who benefits the most from the final shaping of the film. Well, other than the dance: Twyla Tharp's work is genius, and consider that she was working with many non-dancers and requiring them to perform numbers on the hillside of Central Park without breaking an ankle (not easy, I've tried it).
In addition to Forman, other future Academy Award® winners include film editor Alan Heim (All That Jazz) and costume designer Ann Roth (The English Patient); cinematography is by Miroslav Ondricek.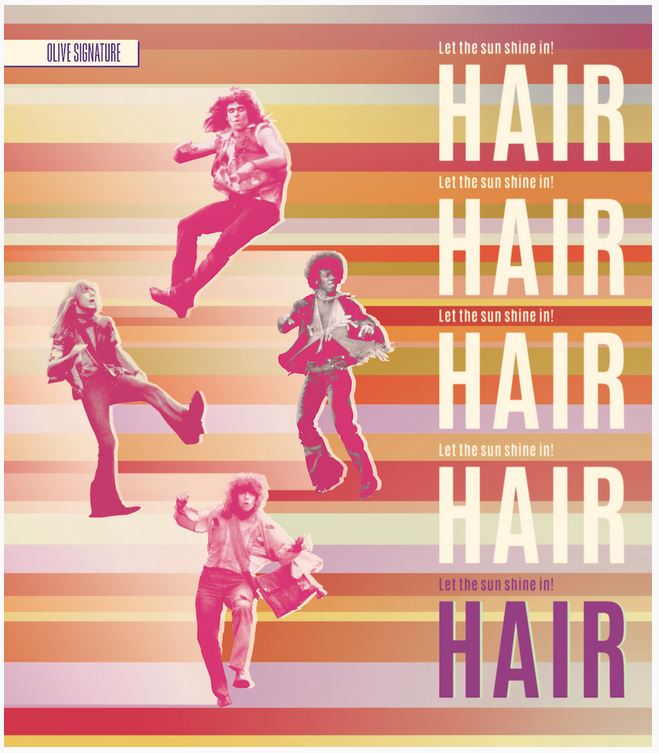 The Olive Signature Presentation
Olive has been one of our favorite distributors for several years now, presenting dozens of once hard-to-see vintage films in high definition offerings. Often criticized for the lack of extras on their releases, they introduced the Olive Signature line a few years ago to compete with the high-end Criterion releases, and despite having quality as good as or better than anybody, seems to have struggled with finding its niche amongst the boutique labels. The cream of the Signature crop has included must-have releases of new restorations of such favorites as High Noon, Johnny Guitar, Invasion of the Body Snatchers '56, and The Quiet Man, and we're happy to say that Hair is worthy of inclusion, with a new restoration, commentary from Treat Williams and assistant director Michael Hausman, and featurettes (from 15 to 30 min. each) with the cast members, Ms. Tharp, the editors, production designer Stuart Wurtzel, and others. One hopes that the Olive Signature line will continue - and that a young generation that has embraced the Beatles, pop art, Audrey Hepburn, and other 60s icons will discover the wild Hair.

Other Musical Favorites... and Not
Critics and fans alike applaud the film version of Hair, and many of us consider it superior to the stage edition. Want to review some of our other favorite Broadway-to-Screen transitions, plus our selections for WORST Broadway adaptations? Follow THIS LINK, dear reader.