(1952, dir. Robert L. Bendick, Prod. Lowell Thomas & Merian C. Cooper)
Flicker Alley Blu-ray $39.95
127 min. / Color / 2.59:1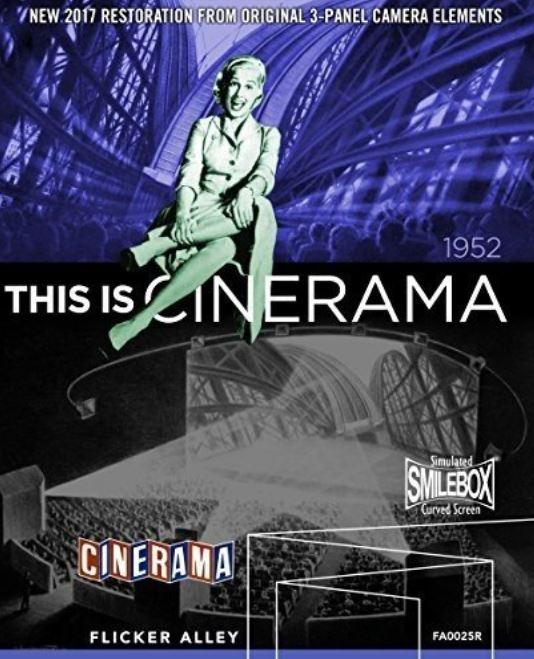 I'll tell you right up front, I was blown away by this one. Flicker Alley has done a phenomenal job restoring and presenting in HD one of the most amazing films I've ever seen, in the "Smilebox" format that approximates the giant curved screen of Cinerama. The new 2017 restoration improves on the one done a few years ago, and carries our highest Balcony recommendation.

Cinerama was way more than just a "night at the movies," each showing was a colossal event at a movie theatre (there weren't very many of them) built to hold a huge, curved screen - the IMAX of its day, sort of, in a way. This is Cinerama was produced to showcase what the format could do (there wasn't a second Cinerama film for three more years) and it stands as a testament to filmmaking, artistry, and this beautiful world of ours.
The film begins (after a long overture) with a standard 1.37:1 B&W film of Lowell Thomas, our narrator tonight, looking a lot like Walt Disney introducing one of his TV shows. Mr. Thomas takes us on a history of moving pictures, and, about 12 min. later, announces the next plateau: "THIS is CINERAMA!" The curtains on either side of the screen slide apart, and the screen itself widens (into three panels, shown by three projectors then, digitally joined now) into an astounding roller coaster ride that scared the shit out of my cat and sent her dashing off my lap and out of the room.
For the next hour, we're treated to excerpts from Aida, a trip over Niagara Falls, a ride through Venice, the Rally of the Clans in Scotland, a Mass, the Vienna Boys Choir, and a jaunt to Spain for a bullfight and some Spanish dancing. After a brief intermission (the screen shows lit cigarettes, in case we needed the hint), and then we're back to enjoy Mr. Thomas' demonstration of the Cinerama sound system, followed by the best of America. First, a full day's show at legendary Cypress Gardens, Florida. Pretty girls in hoop skirts pose for the tourists and then rip off their dresses (they're wearing bathing suits, relax) and hit the water skis. (Oh, so THAT'S where that Go-Gos album cover comes from!) After a half-hour of that (and, frankly, that's a little too long) we close our show with a 30 min. cross-country trip by air, East to West, taking in the beauty and majesty of this country of ours (and, noting, there's NO MANSION atop Mt. Rushmore, Mr. Hitchcock) while the Mormon Tabernacle Choir sings America the Beautiful, including all those verses none of us knew existed.
I watched the last 30 min. segment twice, that's how awesomely beautiful our country is, city, town, and country. The Grand Canyon and Monument Valley made me catch my breath. I got sad, thinking how divided we are as people when we're all Americans.
The disc has a plethora of both vintage and new bonus materials, highlighted by a 19 min. film on the restoration of Cinerama.
Simply an astonishing adventure in film-watching. Flicker Alley has restored many of the Cinerama films, and you can also get the Cinerama How the West was Won in Smilebox.
It's not too often I call watching a BD an event, but this certainly qualifies. It's a treasure.